Ecru Wool & Cashmere Short Vest with Black Embroidery, Handcrafted by Authentic Romanian Artisans (01)
An elegant, timeless and luxurious artisanal piece, made following authentic manufacturing techniques and traditional embroidery patterns, dating back to the early XX century.
Today, this exceptional original vest is made in the atelier of the only master artisan still practicing this craft, who inherited this skill from generation to generation.
If you'd like to learn more about the story of these artisanal pieces, you can read on our blog.
- Fabric: Off White 80% Wool & 20% Cashmere
- Embroidery: Black Wool Threads
- Lining: Satin
Authentic Design, Handcrafted by Romanian Artisans in Tismana, Gorj (Oltenia).
This is a Bespoke, Made-to-Order piece, customized to your dimensions. You can choose one of the standard sizes, but please also check our SIZE GUIDE (on the right side) when you select your size. However, for the perfect fit, we strongly encourage you to provide your measurements (Back - Bust - Waist - Hip - Sleeve Length) in the message box at checkout. If you have any questions about the sizing, do not hesitate to contact us.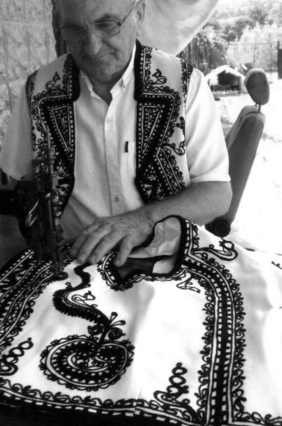 Wool Craftsmanship Embroidery
'We are the last generation of artisans practicing this craft. I have a nephew who wants to learn, and I want to carry on this activity... The most difficult thing to do is the 'schileresc' pattern. I usually work on such a coat for a few months, because it requires a certain kind of concentration' - says our skilled artisan, Gheorghe Ciuncanu.

Blouse Roumaine Shop is connecting you with one of the most talented master craftsmen of these authentic Romanian Coats. One of the last standing artisans from Gorj county, he is managing to transform these coats into true 'jewellery' through his art.
Traditionally, these authentic coats from Oltenia are made of white 'dimie' (80% wool and 20% cashmere fibers condensed and pressed together to become a felted cloth) and decorated with 'gîtane' (string made by twisting or braiding the wool/silk/metallic threads, appearing as an embroidery), which usually is applied on the joining seams of fabric panels or around the hems, with the purpose of hiding and strengthening the seams. All the coats and vests are crafted with an ancient embroidery machine from the 18th century in the traditional atelier of Tismana, Gorj county.

These famous coats have impressed and inspired great names, commencing with Queen Marie of Romania in the 20th century, a true fashion icon of the time, who tastefully integrated them into the attire of the Royal House, and continuing with big international fashion labels, from Valentino to Tory Burch.
'I only work with 100% wool, from which the colors never came out. I never received any complaints. I myself have an 80-year-old costume in my collection, which is in the most perfect condition.' - Gheorghe Ciuncanu, master craftsman.

Wool is one of the most long-lasting and resistant textiles, having antiallergic and antibacterial properties - which diminish the need for frequent washing. Back in the day, the most common way of cleaning woolen items was to simply leave them outdoors in the sun and wind for a while, just like our grandparents - the pioneers of sustainability - used to do. As such, in some cases - especially when it comes to wool coats - this process of natural sanitization of wool can almost eliminate the washing process, thus lowering the impact on the ecosystem.
These are Bespoke, Made to Order pieces, customized to your dimensions. For the perfect fit, please provide your measurements (Back - Bust - Waist - Hip - Sleeve Length) in the message box at checkout.
Size guide
This table is for converting between American, Italian, British, French and Japanese women's sizes.
Simply find your size in the chart to see the corresponding size for the other international size systems.
| S-M-l | XS-S | S | M | M | L | L-XL | XL |
| --- | --- | --- | --- | --- | --- | --- | --- |
| USA | 2 | 4 | 6 | 8 | 10 | 12 | 14 |
| UK / England | 6 | 8 | 10 | 12 | 14 | 16 | 18 |
| Italy | 38 | 40 | 42 | 44 | 46 | 48 | 50 |
| France | 34 | 36 | 38 | 40 | 42 | 44 | 46 |
| Germany | 32 | 34 | 36 | 38 | 40 | 42 | 44 |
| Japan | 5 | 7 | 9 | 11 | 13 | 15 | 17 |
Romana
Marime
XS
34
S
36-38
M
40-42
L
44-46
XL
48-50
XXL
52-54
Bust (cm)
100
110
120
130
135
140
Talie (cm)
100
110
120
130
135
140
Sold (cm)
100
110
120
130
135
140
Lungime camasa
55
60
68
70
72
75
Lungime maneca
50
55
60
63
65
65
English
Size
XS
34
S
36-38
M
40-42
L
44-46
XL
48-50
XXL
52-54
Torso (cm)
100
110
120
130
135
140
Waist (cm)
100
110
120
130
135
140
Hips (cm)
100
110
120
130
135
140
Lenght blouse
55
60
68
70
72
75
Sleeve length
50
55
60
63
65
65