Beautiful white vyshyvanka with old authentic pattern is made from high-quality natural linen. The ornament is taken from old Ukrainian embroidery schemes of Kiev region. Old Ukrainian techniques are used: "zbyranka" stitches on the neck (an equal number of threads of the cloth is taken and tightened with a thread in the fold. Folds are knitted so that they lie tightly together. To achieve this, folds are tightened with one more thread just below the first one) and "pukhlyky" stitches (tiny gatherings) on the sleeves. Handmade.
The symbolism of embroidery: the embroidered roses is a symbol of beauty and love. Roses made the geometric pattern and mean not only flowers but all stars in huge Universe. It brings harmony in your life.
Advantages: Ancient Ukrainian ornament. Old Ukrainian techniques of decorative stitches. Handmade.
Details: The sleeves and neck are fastened with Czech natural buttons from seashells.
The neck and the sleeves are decorated with handmade "zbyranka" and "pukhlyky" stitches.
Fabric: high quality linen.
Made in Ukraine.
*Measurements of finished item:
XS-S S-M M-L L-XL
Neck 60 60 63 63
Bust 98 10 110 116
Weist 102 108 114 120
Hips 110 116 122 128
Length 67 67 67 67
Sleeve length 72 72 74 74
Foberini brand has its own shipping policy as it follows:
10 ( Ten) working days for the production and 40$ for express shipping.
Please note that custom taxes, duties and handling fees for each individual country will be applied and invoiced separately through our shipping company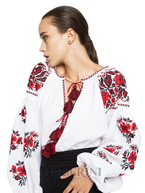 Foberini
FOBERINI brand of premium clothing, inspired for the creation by the cultural heritage of Ukraine. Since 2014 the FOBERINI team comprehends old traditions in modern design, creating designer embroideries Made in Ukraine – and presents them in showrooms on both sides of the Equator. A harmonious transformation of the old embroidery into a new design of clothes is the brand's business card. The color scheme of embroideries FOBERINI is a message in which it is easy to trace the variety of colors of Ukrainian nature, and embroidered patterns that form an authentic ornament, contain the power of amulet.


We choose natural and high-quality materials – silk, wool, 100% linen, cotton and silk threads, buttons made of natural shell to make FOBERINI embroidered collections. The brand professes the values of ethical fashion and slow fashion. When trusting FOBERINI, you choose high quality, authentic, natural design of product from the Ukrainian manufacturer.

FOBERINI leads not only fashionable, but also social and cultural activities together with the most talented Ukrainians, successful in their direction. Singer Nina Matvienko, world champion in track and field athletics Olga Saladuha, frontman of the band Antutila Taras Topolya, writer Irene Karpa, Eurovision presenter Timur Miroshnichenko, actor Ostap Stupka, politician Mustafa Nayem, premieres of the National Opera of Ukraine Katerina Kukhar and Alexander Stoyanov and many others have already shared their success stories in independent Ukraine. The mission of such projects is to raise the level of motivation of people, to show that it is possible to develop and become successful in Ukraine.
All-season collections of ready-to-wear, dresses, blouses, overalls, outerwear, trousers and skirts, decorations and decor for the house with embroidery in the ethno-chic style by FOBERINI contain Ukrainian energy that combines the original etno-culture prints in multi-layered images, and elements of handmade ornaments.
We choose natural and high-quality materials – silk, wool, 100% linen, cotton and silk threads, buttons made of natural shell to make FOBERINI embroidered collections.
XS-S, M-L, L-M, L-XL
Size guide
This table is for converting between American, Italian, British, French and Japanese women's sizes.
Simply find your size in the chart to see the corresponding size for the other international size systems.
| S-M-l | XS-S | S | M | M | L | L-XL | XL |
| --- | --- | --- | --- | --- | --- | --- | --- |
| USA | 2 | 4 | 6 | 8 | 10 | 12 | 14 |
| UK / England | 6 | 8 | 10 | 12 | 14 | 16 | 18 |
| Italy | 38 | 40 | 42 | 44 | 46 | 48 | 50 |
| France | 34 | 36 | 38 | 40 | 42 | 44 | 46 |
| Germany | 32 | 34 | 36 | 38 | 40 | 42 | 44 |
| Japan | 5 | 7 | 9 | 11 | 13 | 15 | 17 |
Romana
Marime
XS
34
S
36-38
M
40-42
L
44-46
XL
48-50
XXL
52-54
Bust (cm)
100
110
120
130
135
140
Talie (cm)
100
110
120
130
135
140
Sold (cm)
100
110
120
130
135
140
Lungime camasa
55
60
68
70
72
75
Lungime maneca
50
55
60
63
65
65
English
Size
XS
34
S
36-38
M
40-42
L
44-46
XL
48-50
XXL
52-54
Torso (cm)
100
110
120
130
135
140
Waist (cm)
100
110
120
130
135
140
Hips (cm)
100
110
120
130
135
140
Lenght blouse
55
60
68
70
72
75
Sleeve length
50
55
60
63
65
65