Embroidery is one of the main carriers and guides of the best traditions of folk art. The modern execution of embroidered motifs is not only a unique decor, but also has a deep meaning.
The main handwriting of the brand is craft production. For the manufacture of each product, an average of 6000 meters of thread and several weeks of rigorous labor are required. All models are handmade and complemented by traditional handmade techniques — "pykhlyky", "zbyranky", tassels and decorative seams. Every product of the brand is an art object, on the creation of which a whole team of masters is working.
In an age of conscious attitude towards nature a brand can't ignore it in it's production. Therefore, all materials of products have mainly natural composition. The using of linen, cotton and decorative adornment made of shells is a sign of high quality and the brand's inclusion in number of manufacturers that create responsible fashion. We believe that the world doesn't need more clothes. It needs a quality and conscious slow fashion.
The creators of the brand believe in style beyond time and continents. Natural fabrics, quality workmanship and artistic content will occupy flagship positions in responsible fashion. Femininity and environmental friendliness — this is the credo of FOBERINI.
Vyshyvanka "Total Red" in black color, with embroidery Richelieu. Now "Richelieu" is considered the most refined and noble embroidery. This blouse will suit both adherents of the classics, and courageous girls who can combine elements from different styles of clothing. The neckline is decorated with two pairs of ties with tassels. Buttons on embroidered cuffs are made of natural shell. Advantages: high-quality natural flax, embroidery Richelieu. Details: Embroidery Richelieu. Two pairs of ties with tassels, buttons made of natural shells. The stitching technique "Pukhlik" and "Ziranka" on the embroidery is made by hand. Composition: 100% linen. Made in Ukraine
Standard delivery by UKRPOSHTA with tracking included 7–14 business days - free
Livrare standard prin UKRPOSHTA cu urmărire inclusă 7-14 zile lucrătoare - gratuit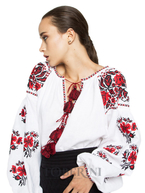 Foberini
FOBERINI brand of premium clothing, inspired for the creation by the cultural heritage of Ukraine. Since 2014 the FOBERINI team comprehends old traditions in modern design, creating designer embroideries Made in Ukraine – and presents them in showrooms on both sides of the Equator. A harmonious transformation of the old embroidery into a new design of clothes is the brand's business card. The color scheme of embroideries FOBERINI is a message in which it is easy to trace the variety of colors of Ukrainian nature, and embroidered patterns that form an authentic ornament, contain the power of amulet.


We choose natural and high-quality materials – silk, wool, 100% linen, cotton and silk threads, buttons made of natural shell to make FOBERINI embroidered collections. The brand professes the values of ethical fashion and slow fashion. When trusting FOBERINI, you choose high quality, authentic, natural design of product from the Ukrainian manufacturer.

FOBERINI leads not only fashionable, but also social and cultural activities together with the most talented Ukrainians, successful in their direction. Singer Nina Matvienko, world champion in track and field athletics Olga Saladuha, frontman of the band Antutila Taras Topolya, writer Irene Karpa, Eurovision presenter Timur Miroshnichenko, actor Ostap Stupka, politician Mustafa Nayem, premieres of the National Opera of Ukraine Katerina Kukhar and Alexander Stoyanov and many others have already shared their success stories in independent Ukraine. The mission of such projects is to raise the level of motivation of people, to show that it is possible to develop and become successful in Ukraine.
All-season collections of ready-to-wear, dresses, blouses, overalls, outerwear, trousers and skirts, decorations and decor for the house with embroidery in the ethno-chic style by FOBERINI contain Ukrainian energy that combines the original etno-culture prints in multi-layered images, and elements of handmade ornaments.
We choose natural and high-quality materials – silk, wool, 100% linen, cotton and silk threads, buttons made of natural shell to make FOBERINI embroidered collections.
XS-S, M-L, L-M, L-XL
Size guide
This table is for converting between American, Italian, British, French and Japanese women's sizes.
Simply find your size in the chart to see the corresponding size for the other international size systems.
| S-M-l | XS-S | S | M | M | L | L-XL | XL |
| --- | --- | --- | --- | --- | --- | --- | --- |
| USA | 2 | 4 | 6 | 8 | 10 | 12 | 14 |
| UK / England | 6 | 8 | 10 | 12 | 14 | 16 | 18 |
| Italy | 38 | 40 | 42 | 44 | 46 | 48 | 50 |
| France | 34 | 36 | 38 | 40 | 42 | 44 | 46 |
| Germany | 32 | 34 | 36 | 38 | 40 | 42 | 44 |
| Japan | 5 | 7 | 9 | 11 | 13 | 15 | 17 |
Romana
Marime
XS
34
S
36-38
M
40-42
L
44-46
XL
48-50
XXL
52-54
Bust (cm)
100
110
120
130
135
140
Talie (cm)
100
110
120
130
135
140
Sold (cm)
100
110
120
130
135
140
Lungime camasa
55
60
68
70
72
75
Lungime maneca
50
55
60
63
65
65
English
Size
XS
34
S
36-38
M
40-42
L
44-46
XL
48-50
XXL
52-54
Torso (cm)
100
110
120
130
135
140
Waist (cm)
100
110
120
130
135
140
Hips (cm)
100
110
120
130
135
140
Lenght blouse
55
60
68
70
72
75
Sleeve length
50
55
60
63
65
65