This piece of art is a part of the collection signed by the young emerging artist, Mara Maria Musat.
A playful and artsy design object. This creation can be a wonderful and joyful gift to be remembered.
Every piece is handmade and has its own design and personality.
Composition- ceramic
Dimension-medium
Handmade
Products on stock. 24 h delivery for Romania
International shipping
2-3 days delivery by DHL
10 days delivery by National Post
If products are not in stock and will be crafted custom made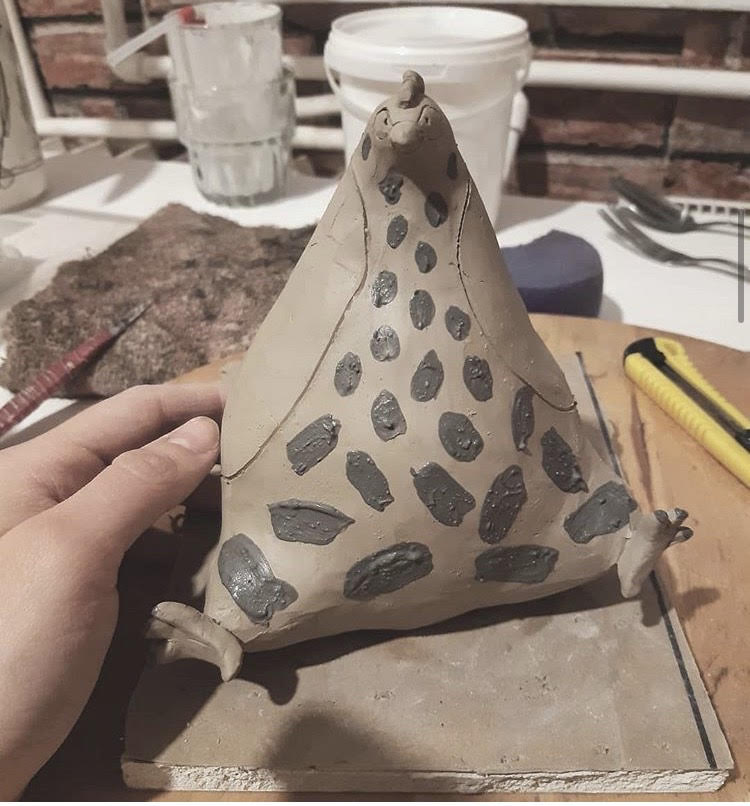 Mara Maria Musat
Mara Maria Musat is an emerging young artist in Bucharest.
Her area of expertise includes textile, tapestry and ceramics.
The collection of Little Truffles comes from her passion for these creatures. The collection is remarkable by the joyful and playful vision combined with creative details and remarkable finishing.
Handmade
Ceramics
-
-
Size guide
This table is for converting between American, Italian, British, French and Japanese women's sizes.
Simply find your size in the chart to see the corresponding size for the other international size systems.
| S-M-l | XS-S | S | M | M | L | L-XL | XL |
| --- | --- | --- | --- | --- | --- | --- | --- |
| USA | 2 | 4 | 6 | 8 | 10 | 12 | 14 |
| UK / England | 6 | 8 | 10 | 12 | 14 | 16 | 18 |
| Italy | 38 | 40 | 42 | 44 | 46 | 48 | 50 |
| France | 34 | 36 | 38 | 40 | 42 | 44 | 46 |
| Germany | 32 | 34 | 36 | 38 | 40 | 42 | 44 |
| Japan | 5 | 7 | 9 | 11 | 13 | 15 | 17 |
Romana
Marime
XS
34
S
36-38
M
40-42
L
44-46
XL
48-50
XXL
52-54
Bust (cm)
100
110
120
130
135
140
Talie (cm)
100
110
120
130
135
140
Sold (cm)
100
110
120
130
135
140
Lungime camasa
55
60
68
70
72
75
Lungime maneca
50
55
60
63
65
65
English
Size
XS
34
S
36-38
M
40-42
L
44-46
XL
48-50
XXL
52-54
Torso (cm)
100
110
120
130
135
140
Waist (cm)
100
110
120
130
135
140
Hips (cm)
100
110
120
130
135
140
Lenght blouse
55
60
68
70
72
75
Sleeve length
50
55
60
63
65
65