Meet the Artisans
The Craft workshops
Our artisans and workshops are located in Romania and Ukraine
We created a link between traditional crafting,local artisans and new brands.
Hateg, Transylvania Atelier
They produce handmade traditional blouses, traditional national costumes, embroidered clothing, leather goods.

This cooperative was founded January 1971 as part of National Union of Craftsmen in Romania

We discovered them in 2013 and became good friends with Teodora and Hortensia who are leading the company now.

Back to the 70s and 80's they had 70 workers,now they are confronted with a major human resources crisis. The art of handmade embroidery is kept among few people and they couldn't compete with fast fashion even though their traditional designs are copied by many fashion brands.

They are working with 10 dedicated women.

Their workshop is located in the heart of Transylvania near Sarmisegetuza Regia, ancient capital and the most important military, religious and political center of the Dacia's prior to the wars with the Roman Empire. Our favorite place is thou the bison reservation and the little vintage expo from the courtyard.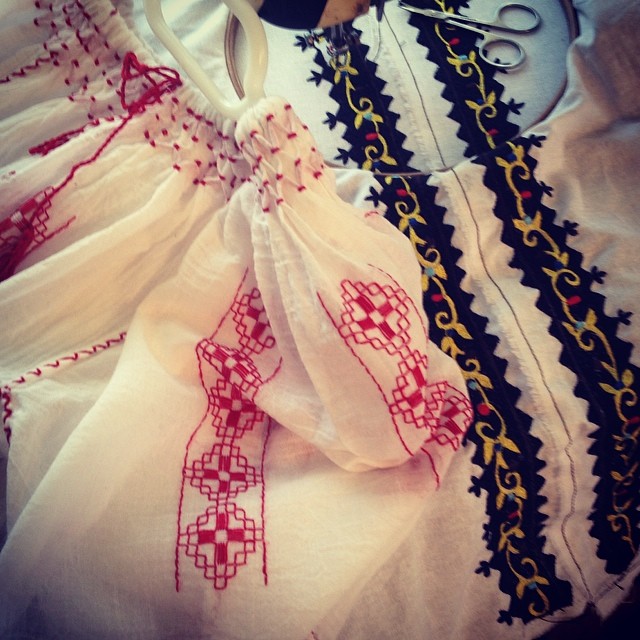 Breaza artisan communities
Handmade embroidery
This Southern region of Romanian is a known for its unique embroidery patterns. The symbols and design are used by designers across the globe.Their history as artisans started back in the 60s and 70s when about 100 artisans produced and exported the famous Romanian blouse for US and Western Europe.The most famous celebrities from the 70s such as Jane Birkin, Brigitte Bardot,Sophia Loren worn the embroidery produced in this region.Now many families from Breaza own small businesses as crafts ateliers. Most iconic items are available on our shop. Breaza embroidery design is one of the most complicated, it takes about a month to create a blouse.
Wave crafts manufacture
Dambovita,Romania
Woven blouses craft ateliers from Southern villages
A loom is a device used to weave cloth and tapestry. The basic purpose of any loom is to hold the warp threads under tension to facilitate the interweaving of the weft threads. The precise shape of the loom and its mechanics may vary, but the basic function is the same. An artisan technique used in the South of Romania is waving at the traditional loom.The geometric embroidery on cotton creates an easy to wear authentic peasant woven blouses perfect for summer days.
Modern Vyshyvanka
Foberini brand Kiev, Ukraine


Ukrainian brand of embroidered bohemian clothes. Founded in 2015 to show the world the richness and uniqueness of Ukrainian culture and to show that traditional Vyshyvanka is a part of timeless fashion.
Driven by the vision of becoming admired fashion forward company, the brand inspires the fashion conscious with its combination of ethnical style, modern design and quality professional tailoring. At present Foberini brand is one of the leading Ukrainian manufacturer with strong international following.
The main concept of the brand is to revive and reborn ancient authentic ornaments of Ukrainian embroidery and update it through designer's unique original creations using finest linen weights and couture standard craftsmanship. Inspired by Ukrainian traditions and culture, Foberini creates blouses and dresses based in Slavic traditional costumes and folkloric embroidery
Placing great importance on a socially responsible company, the brand advocated UN Sustainable Development Goals, namely sustainable fashion movement as a future vision of success.