An elegant accessory crafted from delicate fabric adorned with traditional motifs. A bracelet made of crêpe de chine, 100% natural silk, digitally printed with an original design by Anca Cernea.
Dimensions: 74X4.5 cm
Due to the manual craftsmanship, the bracelet's dimensions and shades may vary slightly.
The "PAIR OF BIRDS" bracelet is part of the ROSEMARY THREAD collection.
The bracelet comes accompanied by a clever gift: a nickel bracelet ring.
Maintenance:
Delicate fabric. Dry cleaning is recommended.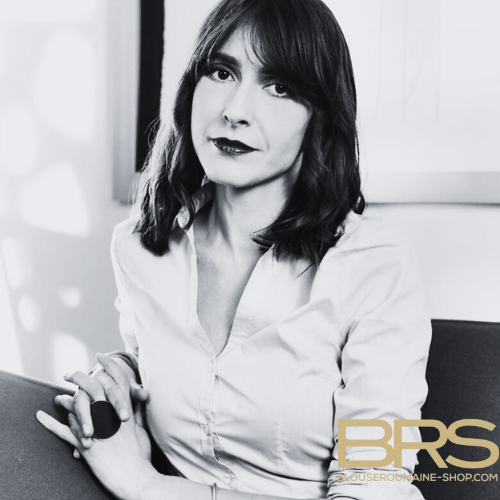 Rozmarin Concept
Rozmarin Concept is a creative endeavor that came to life from the need to explore and share what brings joy and meaning to its founders. Led by Anca Cernea, a versatile designer with a background in acting, scenography, and illustration, the brand embodies a fusion of diverse artistic influences.

Driven by a deep curiosity and respect for tradition, Rozmarin Concept weaves together elements of ancient wisdom and contemporary design. The team behind the brand is dedicated to continuous education and craftsmanship, ensuring meticulous attention to detail in every creation.

With a profound appreciation for the arts, emotion, and the human experience, Rozmarin Concept aims to bring forth a world where creativity thrives. Through their vibrant use of colors, elegant lines, and geometric forms, they infuse each piece with a sense of vitality and playfulness.

At the heart of Rozmarin Concept is the desire to evoke a sense of celebration and freedom. They believe in the power of imagination and the ability to transform dreams into reality. By creating fine and sophisticated accessories, they invite individuals to embrace their own unique stories and express their personal style.

Rozmarin Concept is not just a brand; it is a manifestation of a purpose-driven journey, a testament to the love for art, the quest for meaning, and the joy of sharing that which uplifts and animates. It is an invitation to embark on a vibrant and imaginative exploration, where tradition meets contemporary design and where beauty intertwines with the celebration of life itself.
-
-
-
Size guide
This table is for converting between American, Italian, British, French and Japanese women's sizes.
Simply find your size in the chart to see the corresponding size for the other international size systems.
| S-M-l | XS-S | S | M | M | L | L-XL | XL |
| --- | --- | --- | --- | --- | --- | --- | --- |
| USA | 2 | 4 | 6 | 8 | 10 | 12 | 14 |
| UK / England | 6 | 8 | 10 | 12 | 14 | 16 | 18 |
| Italy | 38 | 40 | 42 | 44 | 46 | 48 | 50 |
| France | 34 | 36 | 38 | 40 | 42 | 44 | 46 |
| Germany | 32 | 34 | 36 | 38 | 40 | 42 | 44 |
| Japan | 5 | 7 | 9 | 11 | 13 | 15 | 17 |
Romana
Marime
XS
34
S
36-38
M
40-42
L
44-46
XL
48-50
XXL
52-54
Bust (cm)
100
110
120
130
135
140
Talie (cm)
100
110
120
130
135
140
Sold (cm)
100
110
120
130
135
140
Lungime camasa
55
60
68
70
72
75
Lungime maneca
50
55
60
63
65
65
English
Size
XS
34
S
36-38
M
40-42
L
44-46
XL
48-50
XXL
52-54
Torso (cm)
100
110
120
130
135
140
Waist (cm)
100
110
120
130
135
140
Hips (cm)
100
110
120
130
135
140
Lenght blouse
55
60
68
70
72
75
Sleeve length
50
55
60
63
65
65