Rose bud pin/brooch. Minimalist, elegant and suble. 13cm length.
Usually ready to dispatch in 24 hours
You can return new and unused items within 30 days
You can cancel within 30 minutes of purchase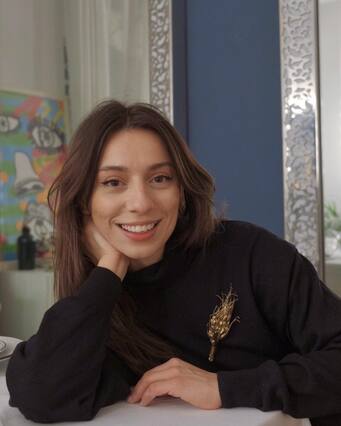 Katerini Mou

KATERINI is a Romanian brand founded in 2014 by Ecaterina Colasîz. Since the beginning, the design would favor style with minimalist, elegant pieces, over passing trends.
Our ambition is part of a wider vision. As creatives, we understand that our role is to inspire our community to be better, buy better and welcome the future.

Through her creations, through workshops, articles and speeches, Ecaterina managed to create and grow a brand that empowers women and makes them look BEAUTIFUL.


"Our aim is to combine good aesthetics with innovation. We launched Silver Lining in 2020, a collection of upcycled PET accessories, with the purpose of bringing consciousness in the community towards plastic pollution."
Every accessory is designed and created in our workshop in Bucharest, by a small group of women. The elements we use are carefully chosen so they last long and the pieces are meant to be versatile and extremely wearable, a good investment.

-
-
Size guide
This table is for converting between American, Italian, British, French and Japanese women's sizes.
Simply find your size in the chart to see the corresponding size for the other international size systems.
| S-M-l | XS-S | S | M | M | L | L-XL | XL |
| --- | --- | --- | --- | --- | --- | --- | --- |
| USA | 2 | 4 | 6 | 8 | 10 | 12 | 14 |
| UK / England | 6 | 8 | 10 | 12 | 14 | 16 | 18 |
| Italy | 38 | 40 | 42 | 44 | 46 | 48 | 50 |
| France | 34 | 36 | 38 | 40 | 42 | 44 | 46 |
| Germany | 32 | 34 | 36 | 38 | 40 | 42 | 44 |
| Japan | 5 | 7 | 9 | 11 | 13 | 15 | 17 |
Romana
Marime
XS
34
S
36-38
M
40-42
L
44-46
XL
48-50
XXL
52-54
Bust (cm)
100
110
120
130
135
140
Talie (cm)
100
110
120
130
135
140
Sold (cm)
100
110
120
130
135
140
Lungime camasa
55
60
68
70
72
75
Lungime maneca
50
55
60
63
65
65
English
Size
XS
34
S
36-38
M
40-42
L
44-46
XL
48-50
XXL
52-54
Torso (cm)
100
110
120
130
135
140
Waist (cm)
100
110
120
130
135
140
Hips (cm)
100
110
120
130
135
140
Lenght blouse
55
60
68
70
72
75
Sleeve length
50
55
60
63
65
65